Blueflower Screenroom to 3-Season Glass Room Upgrade
Create a vacation spot right outside your back door with Blueflower Sunrooms & Four Seasons products.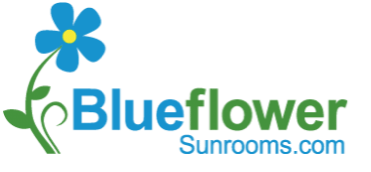 Custom Sunrooms
Customizable options, we customize each project to your needs

One Stop Shop
All products supplied and installed through Blueflower Sunrooms

Quality Installations
A+ BBB rating, best labour warranty available
Glass Room Upgrade Project
You may not fully appreciate all the advantages a 3-season sunroom offers until you've enjoyed the comfort of screenroom for a period of time. That's how these Blueflower Sunrooms clients made the decision to upgrade their original screen room to a glass room and extend the use of their space.
This 3-season glass room includes insulated panels for any kind of weather, sliding doors that can easily be opened when desired and polycarbonate roof panels to protect against sun rays. With these features included, this type of elegant design will add value to your home!
The Mansard style roof offers elegance to any home by adding interest and character while providing additional space on top of what was already there.
With this upgrade complete, our clients are able to enjoy their sunroom year-round without concerns about snow or harmful UV rays. It's the perfect solution for cozy winter evenings! And with so many benefits offered by upgrading from a screenroom to a glass room like this great Blueflower Sunrooms project, it may be worth considering
These screenrooms are an excellent way to bring nature in and experience the outdoors without being exposed too much. The screenroom is a building with walls that have screens on them, which provides shade from sunlight while still allowing wind, rain and other elements of nature inside. A typical size for this structure ranges from 20×20 feet up to 40×60 feet, depending on what you need it for or how many people will be coming in and out at once time. It can easily accommodate four wheelchairs side by side if necessary as well as provide spaces large enough for storage items like lawn mowers or small tables with chairs outside. All-in-all they offer creative solutions when there isn't any more room left around your house for expansion!
3 Season Glass Room Upgrade
Click To Enlarge
Mansard Roof
The Mansard Roof offers extra space because. ofits virtually vertical slopes. This provides a larger, light and airy feel to your sunroom while allowing for might more light and natural heat distribution. Here is a link to another Mansard Roof Project from Blueflower.
More From The Blog
The latest news and project updates.
Our favorite part of this room is the patio door facing towards the rest of the deck. It opens seamlessly to let the outside in. This room is a great place to relax, entertain or an extra space for the family to use.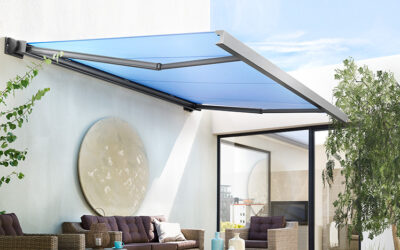 STOBAG awnings are manufactured individually for a customized fit bringing shade and protection to your outdoor space.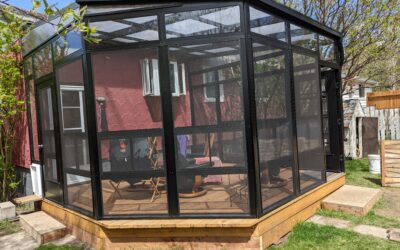 This screen room in NW Calgary was custom built over a new deck and included a custom doggie door, Vertical 4-Track Window System, screen walls and a polycarbonate roof.
What you get with Blueflower Sunrooms
We only do things the right way, we fully permit all our projects and include engineering approval when necessary. Blueflower Sunrooms Calgary will take care of all municipal building permits and build everything to code. Fully business licensed in Southern Alberta and British Columbia.
Industry leading 2 year labour warranty

A+ Rating with BBB

Active WCB Member

$5,000,000 commercial liability insurance
Frequently Asked Questions
What Are The Benefits of a 4 Season Sunroom?
You Need A 4 Season Sunroom If...
You want to use the room year round
You want additional space for your entire family to enjoy
You want to increase your home's value and curb appeal
Need UV protection and protection from the elements
Want an outdoor space free from bugs and wind
Why Would I Choose A Screen Room?
You Need A Screen Room If...
You want bug protection while enjoying the outdoors
You have views you don't want to lose
You want to extend the use of your deck on windy days
You want a cost effective addition the whole family can enjoy
Need screens strong enough to hold up to kids and pets
What About Motorized Screens?
Talius Habitat Screens...
Allow you to block the sun and wind without compromising your view. Motorized and fully retractable screens that create a comfortable bug free environment for the whole family to enjoy. Safe for use near BBQs and outdoor propane fire pits.
What Are The Benefits of a 3 Season Sunroom?
You Need A 3 Season Sunroom If...
You want additional space for your entire family to enjoy
You want to increase your home's value and curb appeal
Want to enjoy the outdoors without pests and weather
Want UV protection, bug free, wind free, and protection from the elements
Is A Patio Cover The Right Choice For Our Home & Yard?
You Need A Patio Cover If...
You want protection from UV and rain on your patio
Have a summer home and you want to add usable outside space
Want to create a protected entertainment space outdoors for your guests
Want a beautiful addition to match your home's aesthetics
Want optional glass or polycarbonate roof panels to increase incoming light while providing protection
What Will I Get With Blueflower?
We Only Do Things The Right Way...
We fully permit all of our projects and include engineering approval when necessary. Blueflower Sunrooms wil take care of all City and building permits to build to code. Fully business licensed in Southern Alberta and BC.
Customizeable options, we tailor each project to exactly what you need
One stop shop, all products sold and installed through Blueflower Sunrooms
In operation since 2004
Quality Products and Quality Installations
A+ rating with BBB
Active WCB member
3D Plans
Best labour warranty available, 2 years
Commercial liability insurance up to $5,000,000